Below are some examples of my work and some of the things that we worked on for each particular client.
Discount Janitorial
A new branch to a favorite client's growing business – Completely custom shopping cart, customer specific pricing, categories, merchant account integration.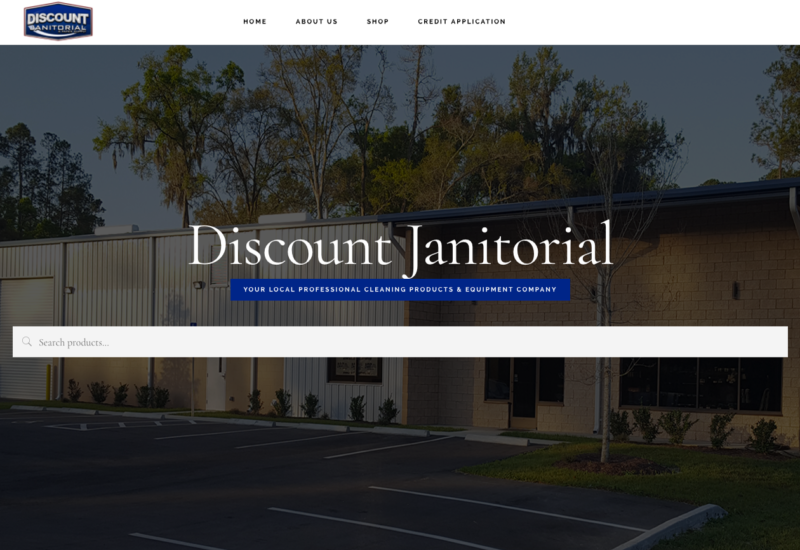 ---
MB's Tiki Hut
Great little tiki hut restaurant out in the forest, this was wonderful fun.  Custom menus, bright colors and gorgeous artwork provided by the client!  Social media maintenance and promotions round out our plan.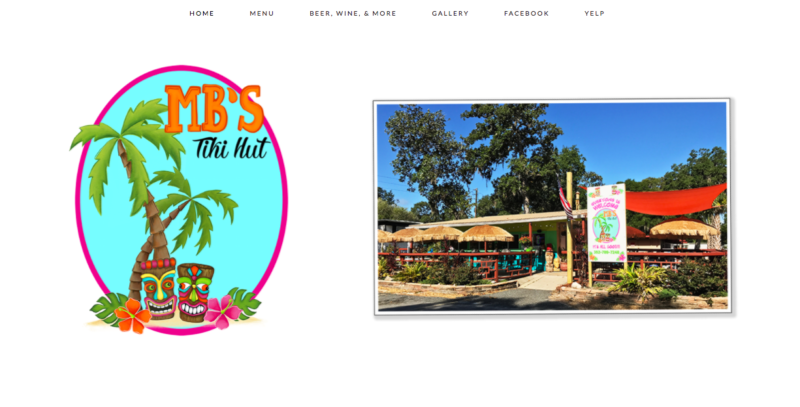 ---
Newport Hay in Ocala
Shopping cart, integrated mailing list and newsletter, custom cart options, including the ability to order custom build pallets of products.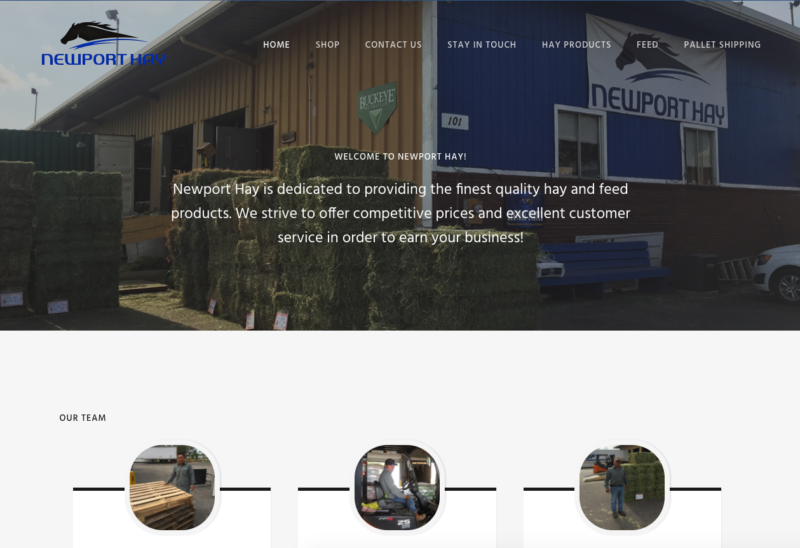 ---
Reckless & Blue
Our music project, I used bold images, and integrated with social media, specifically Facebook, Reverbnation, and Youtube.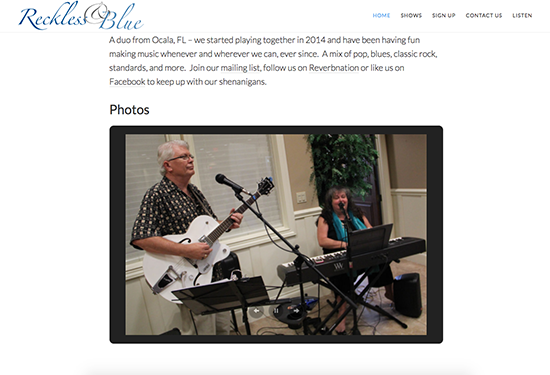 ---
Portal of Hope
Great site for women to mentor, support, and lift one another up!  I created this website with a lot of input from the owner who is also a wonderful graphic designer.  Installation and implementation of a membership website for social interaction of the members. Social media, Youtube, Facebook, and more.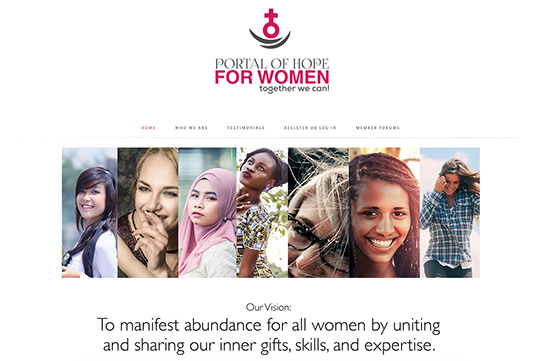 ---
North Central Florida Blues Society
Adding and configuring premium plugins for membership services as well as a shopping cart, this was a blast to do.  I love working with other musicians and Cassie was a blast.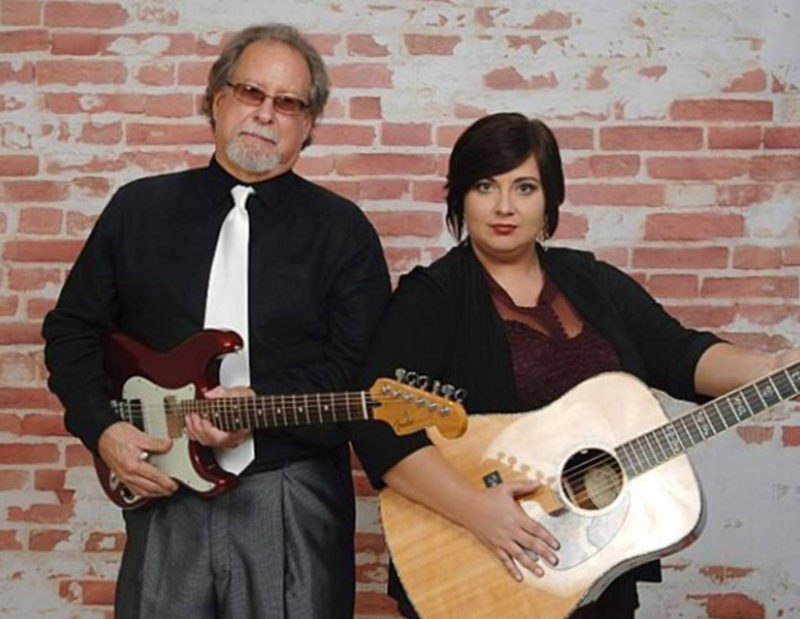 Working with Christine to update our website was an absolute delight! Christine addressed every question and concern we had almost immediately with a smile and a professional can-do attitude. She was able to direct us during the project and help us work through questions we didn't even know to ask. She even went above and beyond and suggested some changes to our facebook page that could help us improve communication with our members and raise funds in the future. Christine's fees were more than reasonable for a web developer with her level of expertise. We look forward to working with her on future projects.
Cassie Keenum – North Central Florida Blues Society
---
Beth Ramsay
A local powerhouse, Beth needed a place to offer her services, let people know about her events and connect all of her social media outlets. Sophisticated, with a sense of humor, we wanted Beth's website to be a reflection of who she is and what she does.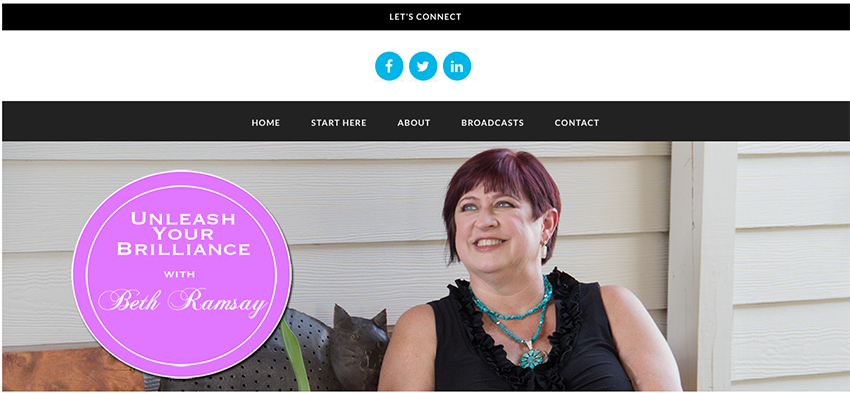 ---
Teresa Roybal
This was great fun!  Incorporating social media, music platforms, with a sophisticated look and feel.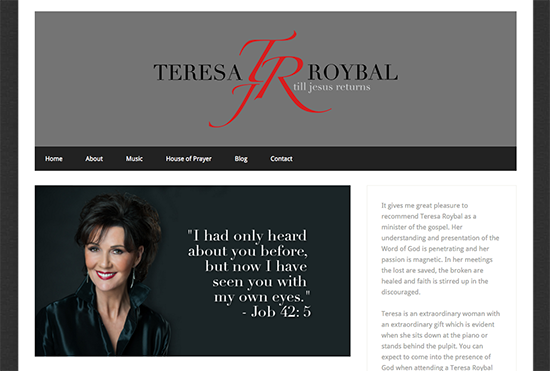 ---
Market Under the Oaks
Farmers market, handmade items, home made items, a true community.  Every Saturday on 326 in Ocala – Live music, lots of fun.  This client wanted a very graphic visualization of the market and its offerings. Social media engagement, training for the community to best represent and promote themselves.
If you need help with web design Christine is the one to call. She takes the time to find out what you need gets it done, while showing you how to manuver around your new site. Very patient and willing to take the time so you are comfortable. Her marketing advise is right on key and she is up to date with all the new social media garb, give her a call you wont be sorry…..  Sue Nassivera – Market Under the Oaks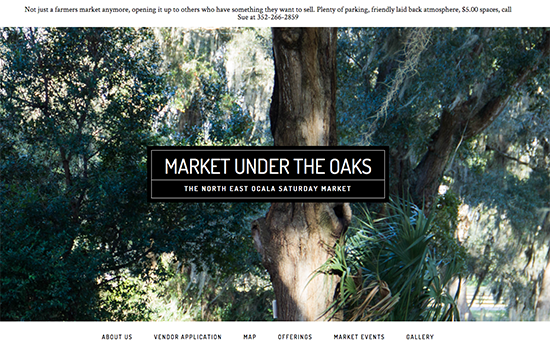 ---
Lake Bryant RV Resort
A great resort out in the Ocala National Forest, the people were wonderful to work with and the beach really is fabulous.  This was about growing an already vibrant community, with the ability to keep people connected with events, as well as information about one of Central Florida's best kept secrets getting to the people who would love to stay here.  Search engine optimization, events calendar, maps, rates, etc.  It's not such a well kept secret anymore!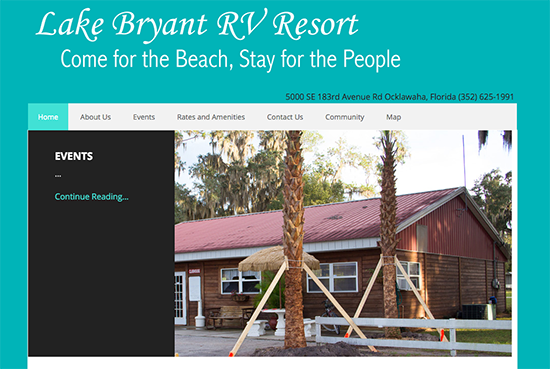 ---
Trinckes Music & Art
John is a pleasure to work with!  Crafting musical instruments from recycled piano sound boards, a classical guitar teacher and one of the nicest people you'd ever want to meet, we created this very clean website and shopping cart, so that the artwork would be the star!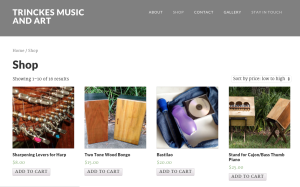 ---
Soul Essentials of Ocala
A delightful shop in the historic district of beautiful Ocala, FL.  This store is a unique, spiritual gift shop, for whom it was very important to have local presence as well as full integration with Facebook and Ebay.  The patrons are a very active community and there are lots of events to keep track of.  We integrated totally with Facebook Events so that the owner would only have to enter the events in one place and they would automatically feed to every other place that her patrons might be hanging out, online.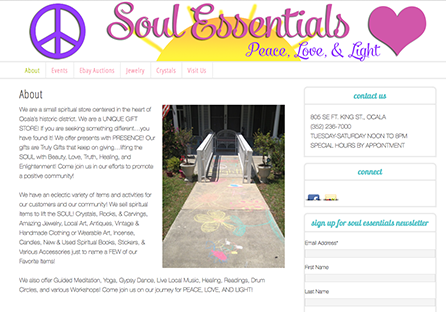 ---
Blue Ribbon Cleaning Company, Inc.
Bringing the three separate branches together into a cohesive, navigable site that was intuitive for both prospective and current clients, while maintaining the branding that has become well recognized here in Marion County was a challenge that I was happy to take on.  Additionally, current clients needed password protected areas for their ordering and communication.
Christine is a pleasure to work with, always taking the time to explain the things that we need help with.  Every time I go to her with an idea, she knows exactly how to implement it and always in a timely fashion.   – Esperanza Casteneda President Blue Ribbon Cleaning Company, Inc.
Christine Leiser Consulting has been helping our business by providing web site design and management for the last several years. Our web site:BlueRibbonOcala.com is our company's best performer for generating new customer interest and online inquiries for our products and services. When using a search engine to locate janitorial services/products in Central Florida, Blue Ribbon & Discount Janitorial consistently is ranked #1 or #2 in the search results. This translates to more exposure, more quoting and ultimately more sales. Blue Ribbon will continue to use Christine's services in the future and we look forward to her new and innovative ideas to keep us #1!  – Terry Thomas of Blue Ribbon Cleaning Company

---

Rosemarie Bridal:

One part shopping site, one part consultant, all elegant and sophisticated.
---
Kate Ratigan
Gorgeous illustrated note cards and and posters, custom invitations and cards.  The client needed a very simple, easy to maintain site that she could take care of herself.  A Paypal cart with lightweight plugins to drive it was the answer for her. On a strict budget, I set it all up, customized and then taught her to add more options when she wanted to.
I've known Christine for many years. We recently reconnected and the result has been a very rewarding relationship, both as friends and as business associates. She has taken me by the hand and helped launch my greeting card business in a way that I could not have done. Christine has tremendous insight and a great eye. She sees things clearly and objectively and has patience to listen to my input. Her prices are very reasonable for the website she was able to tailor exactly to fit ME! I am completely satisfied with the way my needs were handled. -Kate Ratigan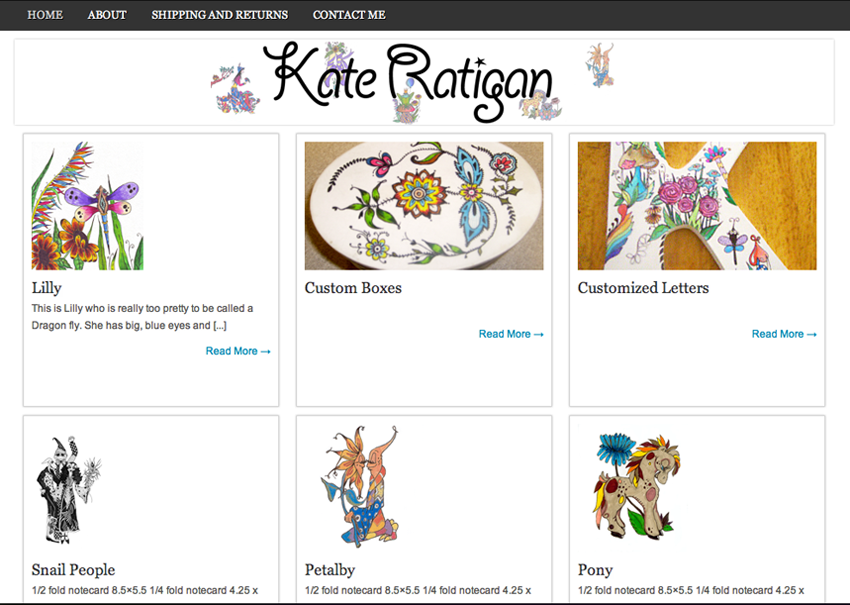 ---
Essenzia
Barb was a joy to work with!  A shopping cart, forms, lots of beautiful images – payment gateways and training, social media and cross platform promotion.
I did not know Christine prior to contacting her as a candidate for designing my website.  Now, she has become a trusted friend as well as business associate.  I recommend her without reservation and wish you much success as you allow Christine to work for you and with you.  Barbara Miller of Ezzencia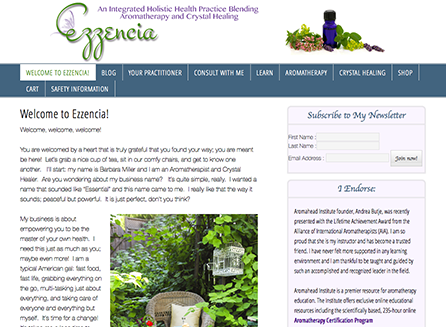 ---
O'Shea's Sports Pub
This was so much fun!  I love working with restaurants and this one is great.  Creating their menu design, setting them up with location based social media as well as helping to create a strong Facebook community, mailing list and website – I enjoyed working with the management team in creating a great look and feel. It's quickly become one of my favorite hang outs!
Christine was a dream to work with!  She jumped in and became one of the team well before we opened our doors.  We relied on her for photographing our Grand Opening Events, designing our menus, and training our staff to take over the updates and social media campaigns.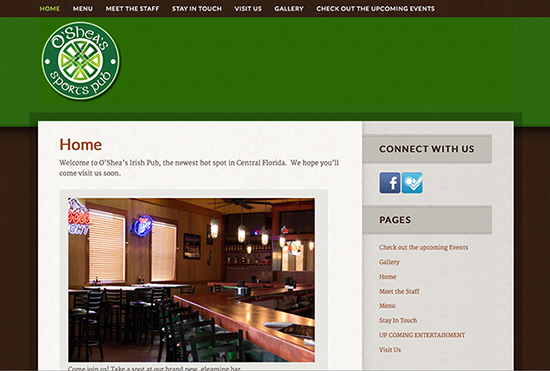 ---
Havana Country Club
With this particular site, we just did a little tweaking and freshened it up a bit.  The restaurant is really starting to use social media tools to encourage new visitors and reward their loyal patrons, so we felt that we should make a few changes.  If you're in the area, go see them and tell them I sent you.  While you're there, check in on FourSquare for specials and more!
I would whole heartedly recommend  Christine  to handle web site design and maintenance.  Christine is also a good sounding board as to suggestions of marketing ideas and she is great at making recommendations that the client hasn't even thought of. If you need further information please call me on my cell phone. 407-719-0080
Kris Brown- Owner Havana Country Club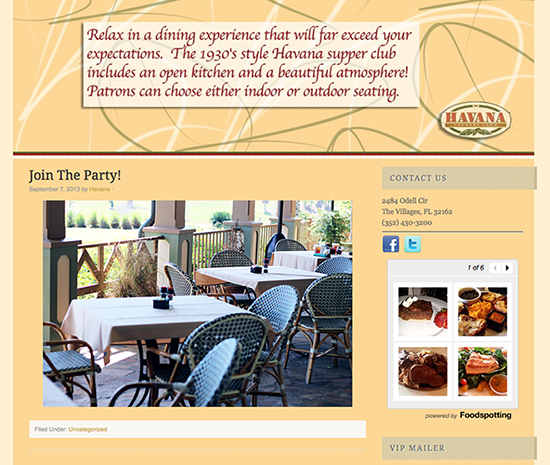 ---
Haley & Allen
Everything that a young, musical act needs.  Stylish site that reflects their personality, web and print promotion, photography, social media, calendars, and mailing list to keep their fans happy!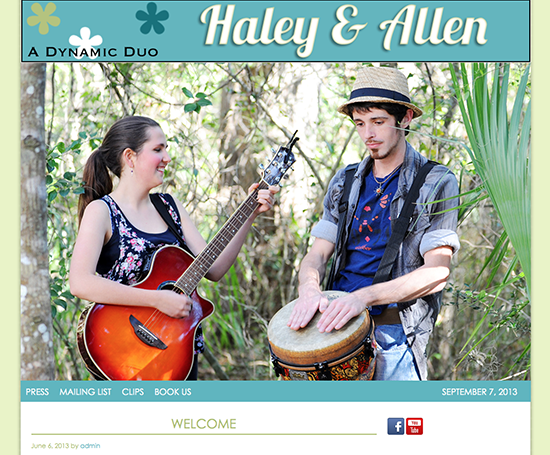 ---
The Dalziels
For this site, I wanted to provide a place where their fans could go to find out where they were playing as well as a place for booking agents and venues to find them.  We incorporated lots of widgets and plug ins for tour dates, music downloads, CD sales and promotion while maintaining a stylish, clean look and lots of beautiful photographs. The current background was made from a photograph of the pattern on Michelle's drum.
As Performing Artists, We needed a website that would capture the attention of venue owners, Labels, Engineers, and more. Christine was the perfect designer for the task. She always seems eager to help and is punctual with deadlines while keeping attention to details. She is patient with making changes as our business changes, and always maintained a smile and a servants heart. Even though she has a busy schedule, she always makes time for our projects and never rushes. I would highly recommend Christine for all your website building needs. -Michelle Dalziel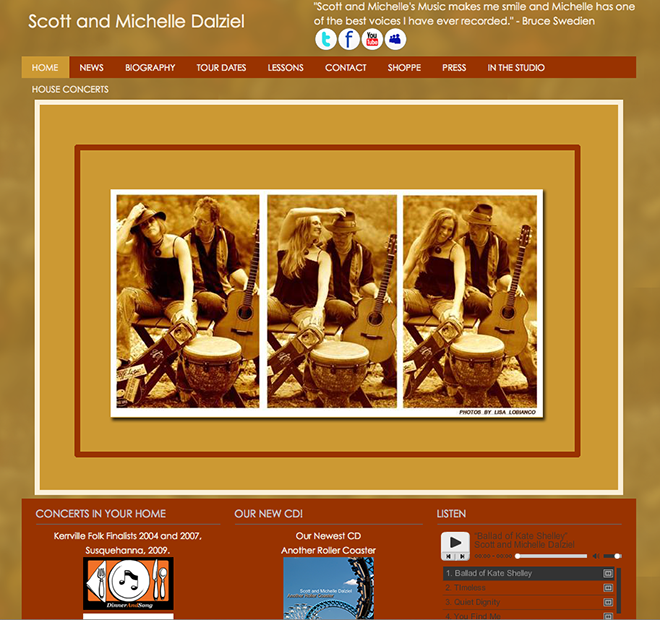 ---
Haley Schroeder
Simple layout, with social media plug ins makes this website a breeze for Haley to maintain herself. Sophisticated yet still appropriate for the teen musician (who happens to be my daughter).  Fully integrated with Facebook fan page, Twitter, Flickr and YouTube, makes for a dynamic portfolio to showcase her talents.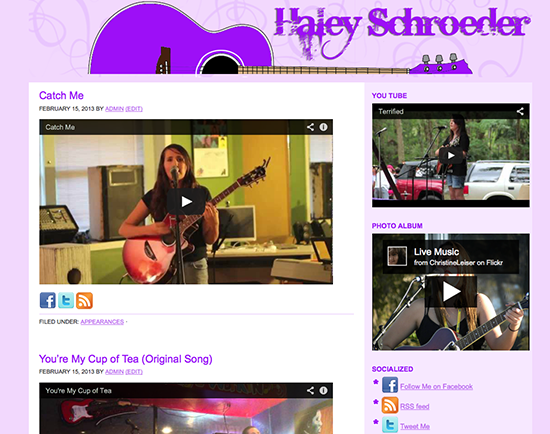 ---
Live Music In Town
A website where musicians, venues and their audience  come together and list their events.  It's local to North Central Florida and it's truly a labor of love for me.  Utilizing the Genesis Theme framework and some extraordinary plugins, I was able to create a calendar of events, an easy way for people to list their events and featured audio and video embedded into the design.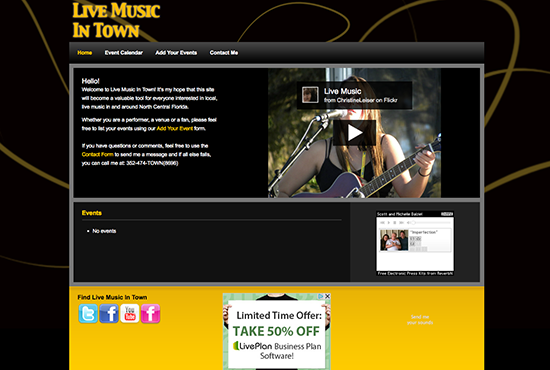 ---
411 Productions
Stop motion animation, voiceovers, technology review with a focus on gaming, this client needed an easy way to keep all of his work in one easy to manipulate place.  Youtube, Facebook, Twitter, Flickr and other feeds are displayed through the use of widgets and plug ins.  I taught the client how to manipulate them so that he could easily change or add to it as his portfolio grows.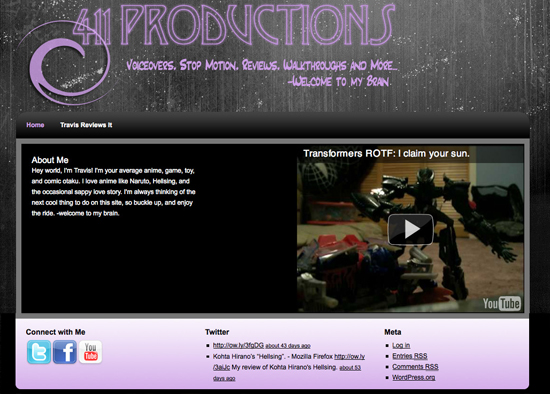 ---
Auto-Magically
A website for a car dealership to showcase specials and "hit" cars. Relies heavily on mobile posting with pictures taken mostly on cellphones. The client needed a way to quickly add cars and delete them when sold. I had lots of fun with the Google Voice widgets and settings.