We all know about Steve Job's rant against Flash, as relevant now as it was then. Now, there's news that Google Chrome won't be allowing Flash files to play in the Chrome browser, by default.  You will, however, as of this writing, be able to change your settings so that you can access them.  So, why?  What's wrong with Adobe Flash? What's all the fuss about? And what should you do about it?
Years and years ago, I fancied myself a Flash developer and I really enjoyed developing with Flash.  Hell, I even made an interactive, snowman holiday card to share with friends and family.  (It was pretty damn cute).  My first glitch was that a lot of the people I sent it to, couldn't open it, or it would glitch and stop and start, and investigating, I found that it was a pretty severe resource hog – I had a powerful, (expensive) PC and I didn't have issues, but not everyone had a similar system.  And when we started to adopt low power, mobile devices?  Yeah, not good.
In addition, most businesses sporting Flash websites, had developers, or DIYers, develop them just to have "Flash".  They weren't well designed, but the animation and the rollovers blinded the website owners.
Worse, it's vulnerable to hackers and a very popular target.
Search engines don't have much to "see" – so it's bad for search engine optimization as well.
When mobile devices, powered by your finger, became the norm, software designed for your browser that relied upon mouseovers and clicks became irrelevant.
So let's see, hard on your CPU, vulnerable to hackers, not supported on mobile devices…  Not good.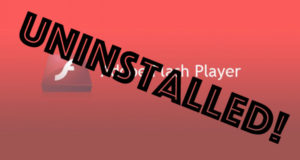 So what do you do?
Redesign your website.  It's inevitable. It's time.
Let me help you.
Give me a call to discuss your options 352.620.4001 – or fill out this form for general information or this form to get to the nuts and bolts of exactly what you need and how to proceed.
I look forward to hearing from you.