You've spent a lot of time thinking about your website, your social media profiles, your image,  and you want to get the most bang for your buck.  I get it, I'm in the same boat, everyone in business is in the same boat – so here are some ideas for your own personal brand and how to remain consistent, transparent, marketable, and personal.
1.) The first thing you want to do, is see where you stand now.  Open up a private (incognito) window in your browser to make sure your results aren't skewed by preferences you have, type in your name, or the name that you go by professionally and see what comes up.
Here's mine: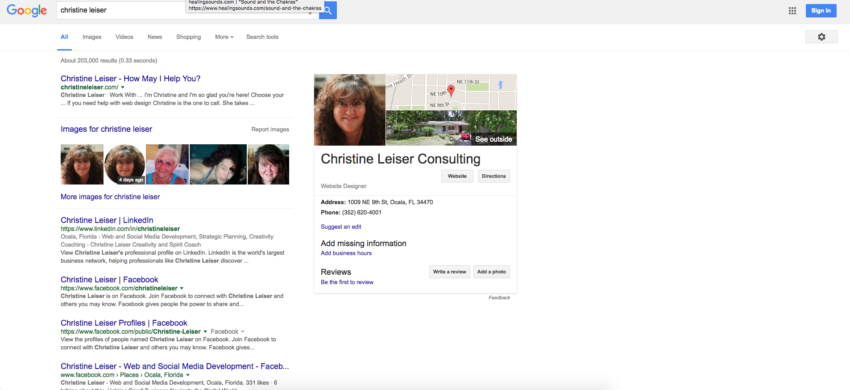 Right away, we see that I come up in the right corner.  That's because my business name is my real name and I registered with Google My Business.  You should do this.  It's free. All the other listings are my personal website, and social media profiles. The 9th listing on the page is the white pages search for "Christine Leiser" and the 10th is peoplefinders search for "Christine Leiser".  I take up the entire first page of Google with my personal brand.  There are lots of people named Christine Leiser, but none of them appear here. So why is that?
Well, I'm very active on Social Media and my username on almost every platform is ChristineLeiser.  Consistency is key here.  Now it's not that easy anymore to get your name on different platforms.  So, if you can't get it, get creative and try firstname.lastname or firstname_lastname – but keep it as close to your name as possible and keep it consistent.
2.) Your profile and account pictures – the general consensus is to keep your photograph the same across all browsers.  I don't really follow that one, although there is one picture that I use on most sm profiles.  I do tend to change my profile picture on facebook pretty often though, but it's almost always a recognizable picture of me.
3.) Watch your language… This is a little bit tricky.  Who's your demographic?  My ideal client is a small business owner/entrepreneur who runs a spirit based business.  They operate from their heart, involving themselves in win/win/win situations, but they don't take themselves super seriously, and have been known to indulge in a little recreational drinking.  For this reason, I don't feel like I have to keep my language super clean – a little cursing isn't a problem for me.
Take a look at who you're marketing to and make that decision for yourself.  If your target is a super conservative, then I'd go a different route
4.) Similarly, how personal do you get?  Should you have separate profiles for your business and personal social media accounts?  I would say no, unless your target demographic is completely different from who you are and really wouldn't approve of your shenanigans… and then I'd say, why are you going after that particular demographic?  I'm a very politically liberal, musician, hippieish, creative who has a very strong affection for good red wine.
My target demographic may not be all of those things, but I'm not going to work very well with someone who abhors the things I am.  I'm very transparent on social media and I figure there are enough clients to go around.  Someone may not like my aesthetic, but then again, I've had people decide to work with me because I was a wise ass, wine drinking, liberal. So, I say, "Do you.  Be kind.  Harm none.  Enjoy Yourself."  The right people will find you.
5.) Post often, post consistently.  I set up my promotional posts on Monday, every monday.  I blog twice a week; Thursday morning 7:30 AM for my spirit/creativity posts – Friday morning 7:30 AM for my web development social media type posts. I send out a newsletter every Tuesday morning at 3AM.  My people know when they're going to hear from me.
6.) But leave room for change.  I also do a lot of "on the fly" posting.  Whether it's a reading I've done, something new I've created, something I discovered that's awesome that I want to share, quotes, images, etc.
7.) Pay attention to your results!  Get very friendly with analytics.  Pay attention to what people are responding to, when, what time, what type? Adjust your plan, accordingly!
Like this? Want more? Please sign up!